We at Johnstonbaugh's Music Centers
are pleased to carry Yamaha Guitars,
Keyboards, and Digital Pianos.
The C40 Classical Beginners and young learners alike will appreciate the level of quality found in the C Series affordable nylon string guitar.   $139.99



The CG101A Classical  Drawing upon the vast knowledge and techniques of Yamaha's master craftsmen, the CG series nylon string guitars were developed to deliver top level sound quality, performance and playability. $199.99


The F325 Acoustic  Finely Crafted Yamaha acoustic guitar provides great sound and playing ease.
Also available in Gigmaker packages with a Gig Bag, Tuner, Guitar Strap, Extra Picks, Extra Strings, and an Instructional DVD, everything you need to get started!  Guitar Alone - $149.99 or Gigmaker Package - $159.99


The FG700S Folk Acoustic The FG700S is a great entry-level acoustic guitar with deluxe features including die-cast tuners, solid Sitka spruce top, and rosewood fingerboard. $199.99


The FG730S Folk Acoustic The level of detail and crafstmanship found in the 730S place this guitar in a class above the rest.   $299.99



The JR1 3/4 Acoustic  The steel string JR1 is modeled after the F series. Yamaha crafstmanship and the use of select woods throughout this instrument create a compact folk guitar offering authentic acoustic sound.   $139.99


The Pacifica Series

The PAC012 Electric One of the best electric guitar values for over a decade, Yamaha Pacifica guitars are well known for great tone and outstanding playability. Available in Black, Metallic Red, Metallic Blue, and Sunburst.


Available in "Gigmaker" packages with everything you need to get started: 20 Watt Guitar Amp, Gig Bag, Chromatic Tuner, Instructional DVD, Extra Strings, Picks, Guitar Cable, and Whammy Bar. $259.99

The PAC112  Electric The Yamaha PAC112V Double Cutaway Electric Guitar, with solid alder body and pro-level hardware and electronics, the Pacifica Series covers it all.   $199.99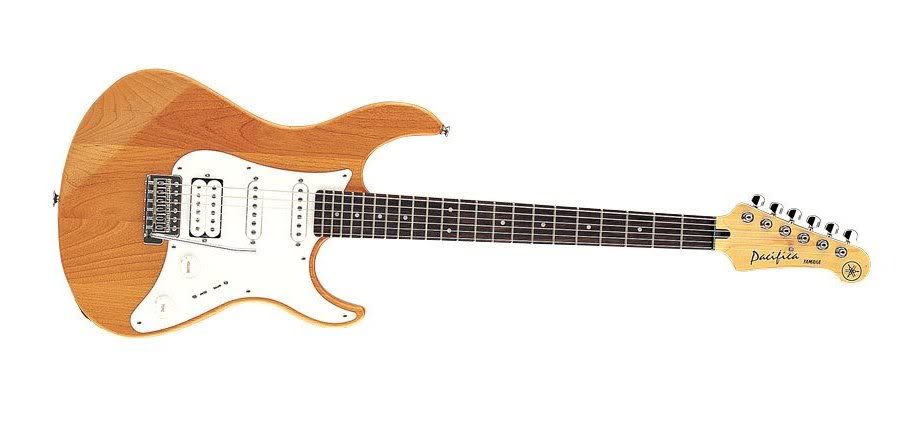 Keyboards and Digital Pianos
The PSR-E223 Entry-Level Keyboard The Yamaha PSR-E223 features 375 natural sounding voices, including Stereo Grand Piano, 361 XGlite voices, 12 drum kits and a sound effect kit. The PSR-E223 also has 100 accompaniment styles and 102 built-in songs. Use the Portable Grand button to instantly call up an authentic stereo grand piano sound. The instrument also has a rich reverb effect that adds concert hall ambience to any performance. The Yamaha Education Suite feature makes learning and practicing music more fun than ever before.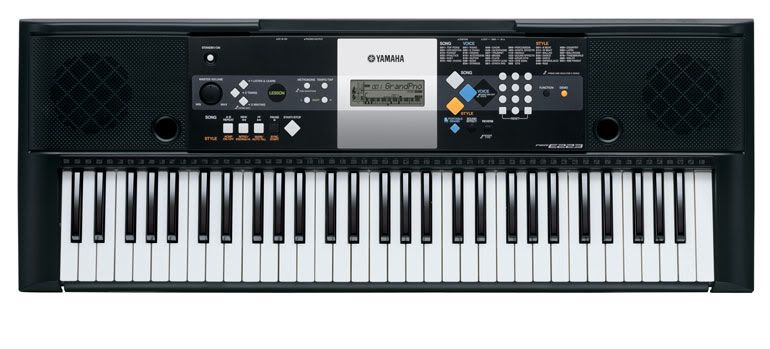 The PSR-E323 Entry-Level Keyboard The Yamaha PRS-E323 Digital Keyboard is a touch sensitive instrument that features 482 dynamic, atuthentic voices, with 361 XGlite voices, 12 drum kits and a sound effect kit. The PSR-E323 also has 106 accompaniment styles and 102 built-in songs. Music database with 100 songs for instrantly setting entire instrument to match a desired music genre. Special two-track Easy Recording feature lets you record and save up to five of your original songs - great for composing and practical purposes.  


The PSR-E413 Portable Keyboard The Yamaha PSR-E413 Keyboard features a Built-in 6-track recorder, synthesizer control knobs, USB, and 2-way stereo speakers that make recording and performing your own music easier than ever. 

The YPG-235 76-Key Portable Grand Piano The Yamaha YPG-235 features 76 piano-style keys with Graded Soft Touch action, stereo piano sound, built-in recorder, pitch-bend wheel, and USB computer connectivity.  

Bb>The NP30PA 76-Key Digital Piano The new NP-30 Portable Grand delivers Yamaha digital piano sound and simplicity in a new lightweight, compact design like nothing else you've seen...all at a price point you won't believe. Its super slim design and minimal weight of 12 pounds makes it the most compact performer in the digital piano family of instruments. 

The P85 88-Key Digital Piano This new Contemporary Piano gives you all the dynamic, high-quality sound and natural piano response you expect from Yamaha, along with a high-quality built-in speaker system--packed into a slim, exceptionally affordable digital piano you can play virtually anywhere. 


The YPG-635 88-Key Weighted Digital Piano The Yamaha Portable Grand YPG-635 is an affordable 88-key weighted graded hammer action Portable Keyboard that boasts an authentic grand piano like touch %97 heavy in the low end, feathery light in the high,and amazingly responsive all over.